The miter saw has been popular since the 1970s and is a must-have power tool for any workshop or DIY enthusiast. They are designed for easy and accurate cross-cuts at a selected angle. This has made them essential for picture framers, but they are also used in crown molding, door frames, window casings, general DIY, and heavier-duty work.
It all sounds very straightforward right now, but when you pop down to the local hardware store or browse online, you are confronted with a myriad of options and alternatives. It can all be a bit daunting and overwhelming if you are not that familiar with them but relax; I will take you through the various options so that you can select the one that is right for you and your needs.
Main Variation – Miter Saw Blade
All miter saws have blades that pivot on an axis to cut at your desired angle. Essentially, there are three main variations of miter saws to decide between, depending on your specific requirements.
Compound Miter Saws — for cutting at various angles and can tilt in one direction (left or right) to cut a bevel. This is handy if you wish to cut at two different angles when cutting molding or picture frames for example.
Dual-bevel Compound Miter Saws — as above but can tilt in both directions, left and right. This allows you to cut bevels and angles and not have to turn the work over.
Sliding Compound Miter Saws – The addition of the slide lets the saw slide or move backward and forwards, thus allowing you to cut wider material.
Ok, so that was relatively straightforward. Now it starts to get slightly more complicated. We are going to examine two of the main choices you will have to make when selecting which miter saw to buy. That is; single vs double bevel miter saw.
We already discussed the Miter saw Vs Sliding Miter Saw. Right, the next choice is:
By now, you will have a pretty good understanding of the options so far. There is one more choice to make. Again, it really comes down to what sort of work you wish to do, so consider that seriously.
Let me explain the difference between single and double-bevel saws.
Bevel: Bevel controls allow users to adjust the angle of the blade to make angled cuts along the thickness of a board. This is incredibly handy and especially helpful when cutting molding. Miter saws are available with one bevel (single bevel, blade tilts to the left) and two bevels (dual or double bevel, blade tilts to the left and right).
Miter Saw Single Vs. Double Bevel
Single Bevel Compound Miter Saws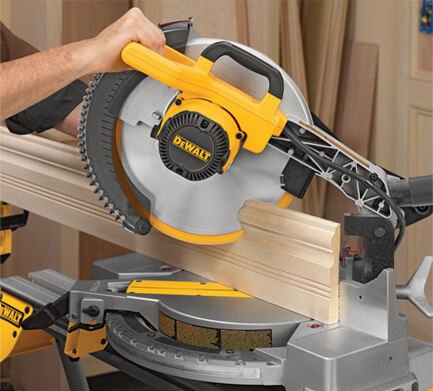 When you are doing work that requires angles in two planes, a single bevel saw will be sufficient. Remember, it can make bevel cuts only in one direction, either left or right, and cut your miter angle. So again, for picture frames and crown moldings, this is perfect.
If you require bevel cuts on both sides of the wood or material, you must turn the wood over to make the second cut. This can be tricky as you have to match the angles perfectly. If you get it wrong, it will result in wasted time and materials as well as much frustration.
Dual Bevel Compound Miter Saws
So, the solution is pretty simple, and the name says it all. If you do have to make bevel cuts on both sides of the material and don't want the frustration of trying to flip the material to do it manually, go for the dual bevel miter saw.
You can swing the saw itself to make perfect, matching bevel cuts on both sides. This certainly makes life a lot easier, will result in less wastage and frustration, and will save you a lot of time.
In order to make a bevel cut in the opposite direction, single bevel saws require that stock be flipped end for end (which can be a pain). On the other end, double bevel saws offer simple bevels to both the left and right. While double-bevel miter saws are more expensive, the price difference (about $50 – $100) is almost negligible if you use the feature.
With the exception of Bosch miter saws, whose bevel controls are conveniently up-front, most saws' bevel controls are placed at the back of the saw. While this is typical and more-or-less intentional, it has proved less ergonomic than up-front access.
Extension Wings:
To increase cutting capacities, some saws are also built with slide-out extension wings to support larger boards. While, in theory, this is a great feature, unless you invest in a more expensive tool, these wings are often not all they're cracked up to be. Conversely, they're a convenient extra on a more high-quality saw.
Motor Placement:
Some saws are built with the motor fixed above the blade. This makes for easier bevel cuts (especially in thick stock) and typically offers a better line of site while working.
If you only have to do this occasionally, then you could get away with a single bevel saw, but if the work requires multiple dual bevel cuts, it is well worth getting the dual bevel option. As always, there is a slight drawback. The additional benefit of the dual bevel does sacrifice a small amount of accuracy, with the single bevel being more precise. The dual bevel is also slightly more expensive.
Final Verdict
Although there is more to every miter saw than the few features listed above, these points should help you find the right path to the right saw. Between enormous cutting capacities, bevel adjustments, and sliding tubes, a miter saw out there will perfectly complement your needs.
This fact, of course, brings us right back to our first consideration – that at the end of the day, the most essential part of any miter saw is its operator. It once again comes down to the type of work you intend to do.
While the dual bevel is more convenient when doing that kind of work, it can still be done with a single bevel with some effort. By the same token, the extra expense will be worth the extra expense if you need to do multiple dual bevel cuts. You will save time, material, and stress in the long run. Know what you need from your miter saw and look for one with those expectations.