Reciprocating saws are a great tool item for any working man or woman, whether they practice home improvement as a hobby or are part of a contracting team for their career. First invented in the early 1950s, this type of saw now comes in many varying weights, sizes, abilities, and aspects. You can purchase a cordless reciprocating saw, which will allow you to take it with you to any site, no matter how far. But you might go with reciprocating saw accessories.
The saws are also efficient; due to their blade customization, you can cut through virtually any material with them. They are easier to use than a manual saw and have a comfortable grip. The saws can also be used for multiple purposes, such as sanding, detailing, and scraping. With all these positive characteristics, you would think reciprocating saws come with a hefty price, but the saws are affordable.
Basic reciprocating saws without accessories can cost as little as $40-$50, whereas professional-grade models may cost as much as $200 (typically, these models include many accessories, backup batteries, and attachments). If you are looking into purchasing a reciprocating saw, consider buying accessories that may or may not come included. Listed below are several essential attachments and extras to help make the experience with your new reciprocating saw an easy and safe one.
 Reciprocating Saw Accessories
Buying some safety accessories for a reciprocating saw is essential, especially if this will be your first time using the tool. Protecting your hands and eyes when working with wood or metals will ensure no fragments cut or scrape your skin or sensitive corneas. We will explore the essential items you need before using a reciprocating saw. The products reveal the best quality and low cost – all these accessories combined should cost no less than $90 and no more than $150, depending on which attributes you value in each product.
Comparing Tool Cases and Bags
The initial need for your new tool is to carry it around and protect its condition. Some reciprocating saws will come with a tote or bag to keep them safe from damage and make them easy to transport. If you find one you like enough to purchase that doesn't include a bag, there are plenty of inexpensive options for your new saw.
Here is a list of some Tool Box the utmost Reciprocating Saw Accessories
What Do You Need Box or Bag?
First, decide what is more important to you – storage space or organization. Tool bags tend to have more volume for you to put your items in, reciprocating saw included, while tool cases are typically made of hard plastic and feature two or more compartments to divide your tools.
An excellent example of a well-rated and affordable tool case is the Dewalt Long-Handle Toolbox Organizer. With over 500 reviews and near-perfect ratings, many hard-working men and women have trusted this item and found great use from it.
They enjoy the ability of the case's compartments to be easily removed from the case itself – allowing the worker to transport just the bare necessities from one place to another. That case can cost anywhere between $20-$30.
If you prefer something with a strap and more room, and a little less organization doesn't bother you, look into tool bags. Black and Decker sells the Matrix Wide-Mouth Storage Bag for the exact cost as the DeWalt tool case but features an adjustable shoulder strap.
The strap will make toting your tools around more comfortable for you. It's also more significant than the tool case, offering up to 21 inches in length of space. Almost any size or model of reciprocating saw will fit. Customers love its durability and exterior pockets for easy access to items.
Case Only For Recip Saw
Some brands, such as Milwaukee, produce tool cases designed specifically for reciprocating saws, such as the M 18 Fuel Heavy Duty Tool Case. Made from durable plastic, this case claims to be the perfect amount of space for your reciprocating saw, and based on reviews, that claim holds up. The case is around $120, making it a large purchase for some, but it is a good investment for those looking to keep their saw safe and in factory condition.
Safety Gloves
A popular choice for gloves is the long-running, trusted brand, Carhart. Their Ergo Knuckler gloves feature nylon and rubber textures with indention to help with grip. The Ergo Knuckler gloves are breathable, ensuring your hard work doesn't lead to sweaty, slippery hands.
They have raving reviews, stating they're comfortable, have a great grip, and are a perfect fit. The gloves cost around $13. However, if searching for something to wear specifically when utilizing a reciprocating saw, mechanics gloves might be better suited, such as the Bob Dale mechanics gloves.
People feel safe in some gloves, so they reviewed and recommend them highly.
The Bob Dale brand produces several kinds of working gloves, all geared towards different needs, such as rancher's gloves, climbing gloves, and operator's gloves. Their range of options for blue-collar workers shows they are a reliable and trusted source with lots of field knowledge.
The Bob Dale mechanics gloves are a synthetic leather and cotton mesh of fabric, making them breathable and offering stretch. They are best for work involving a reciprocating saw because they can absorb shock, alleviating your body from the vibrations of the saw. The Velcro band at its wrists allows for a secure, perfect fit around any size wrist. They cost around $20.
Safety Goggles
DeWalt is another brand that working men and women trust to produce quality products that always have safety and efficiency in mind. The company's safety goggles feature an adjustable strap, allowing for a great fit and ensuring comfort for extended wear.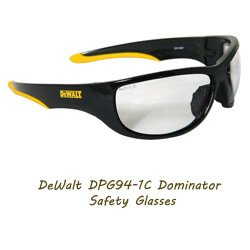 The lens even provides UV protection for those projects on hot summer days. The goggles cost around $10. These Goggles will play an essential role in the time of work with power tools; we especially recommend these as reciprocating saw accessories because these goggles are made to protect the eye from any dust extracted from your project.
Saw Attachment Kit
Spyder is a well-known brand for distributing kits that come with multiple accessories, giving you and you saw the edge you need to get any job done.
Featuring five different attachments, including a brush, three different scraper sizes, and a detailer saw, the Spyder kit is well-received because it can fit virtually every reciprocating saw and gives its user the ability to do more with their tool. 
The kit costs around $30. Other helpful attachments that may be additionally purchased are scouring pads, useful when cleaning hard-to-remove grease from grills, or grout rakes, making removing unwanted grout from in between tiles easy.  
Products to Help Maintain Your Saw
An essential tactic in maintaining your saw is to charge it regularly and to keep your blades clean and dry. Rust or oxidation of the metals can damage the utility of your reciprocating saw. Never wear down your saw. If you experience grinding or the saw isn't running as smoothly as it once did, consider replacing any of the products listed below. Having these accessories as backups will ensure that your saw is always in top working condition.
Blade Holders and Clamps
Investing in blade holders and clamps is a great way to keep your reciprocating saw working like new for years to come. They are bought as kits featuring several small parts, all to help restore your saw's quality and utility.
Know the brand and model of your reciprocating saw before shopping for these items, as they are sometimes explicitly made. For instance, the BOSCH brand produces a clamp kit that only works for BOSCH brand reciprocating saws.
Replacement Battery
Charging regularly may lead to the necessity of a replacement battery. Most saws will come with a lithium battery; others will include an extra one or two. Purchasing batteries that the same company makes as who makes your reciprocating saw may be the best choice, as, often, the saws have varying sizes, and some batteries may not fit. However, some companies cater to the market by generating 100% compatible batteries.
Such is the case with the Makita 4390D replacement battery, which has a one-year warranty of just $40. Another battery that may be compatible with your reciprocating saw would be Milwaukee brand's 18 V lithium battery. These are designed specifically for cordless power tools and can be purchased in packs of two for around $80. The batteries typically attach to the bottom of the saw and, if charged, will give your tool instantaneous power once attached.  
Carbon Brushes
Having replacement holders, clamps, and batteries is essential in keeping your saw in excellent condition; this final product may also help ensure this. Carbon brushes are used in power tools as a conductor of energy to keep the tool functioning.
Sometimes, these brushes may require replacement due to the damage vibrations from the equipment piece and weather will cause. Replacement, as needed, will help extend the life of a reciprocating saw, enabling you to keep tackling all of your projects. The Makita Carbon Brush set is compatible with many reciprocating saw models, has high reviews, and is only $10 or less. Customers say Makita's replacement kit is easy to install, making a necessary process easy and painless.
 Conclusion
Reciprocating saws are the perfect choice for any man or woman interested in home improvement, D-I-Y crafts, or having a career in contracting or construction. The fact that they're cordless gives them extra mobility and no need to worry or struggle with cords around the garage or job site.
They are powerful, having the ability to cut through almost any surface. The customization of the saw gives you the freedom to install many different attachments and perform nearly any task. Maintain your saw and keep yourself safe while using it, and your investment in this power tool will last you many more projects.