Table saws are a woodworker's favorite tool that helps them cut clean through thick trees with much ease. Modern table saws not only cut through wood but can also be optimized to handle other materials like sheets of plastic.
Manufacturers of these tools have different targets in mind when designing various models so you must shop wisely. The best table saw should not only pass the performance test, but it must also be durable, affordable, and the right size for convenient storage.
Best Table Saw Comparison & Review
The market is currently packed with some pretty awesome table saws. However, there is that category of table saws that provide a rare combination of powerful performance and unmatched precision. Want to know which models fall into this category? Well, join me as I review each model and outline the special features and benefits that give them an edge over other competitors.
| Position | Product Name | Blade Speed | More info |
| --- | --- | --- | --- |
| Best Overall | DEWALT DWE7491RS 10 in. Jobsite Table Saw | 4,800 RPM | Check more info on amazon |
| Second Best | Bosch 4100-09 10 in. Worksite Table Saw | 3,650 RPM | Check more info on amazon |
| Best Jobsite | DEWALT DW745 10″ Compact Job-Site Table Saw | 3,850 RPM | Check more info on amazon |
| Best Portable | Bosch GTS1031 10 in. Portable Jobsite Table Saw | 5,000 RPM | Check more info on amazon |
| Best Price | TACKLIFE MTS01A Jobsite Table Saw with Stand | 4,800 RPM | Check more info on amazon |
| Best for DIYers | SKILSAW SPT70WT-01 10″ Portable Table Saw | 9,000 RPM | Check more info on amazon |
| Best Heavy-Duty | Hitachi C10RJ 10″ 15-Amp Jobsite Table Saw | 4,500 RPM | Check more info on amazon |
| Best Compact | Milwaukee 2736-20 M18 Fuel ONE-Key 8-1/4 in. Table Saw, Tool Only | 5,800 RPM | Check more info on amazon |
| Best Professional | Rockwell RK7241S Table Saw With Laser | 4,800 RPM | Check more info on amazon |
| Best Contractor | Makita 2705 10-Inch Contractor Table Saw | 4,800 RPM | Check more info on amazon |
DEWALT DWE7491RS 10-Inch Jobsite Table Saw
This table saw is one of the best table saws that was designed for accurate, reliable, and precision cutting. It's a versatile power tool that can accommodate the needs of cabinet installers, hardwood floor installers, trim carpenters, deck builders, remodelers, and serious woodworkers.
The saw is fitted with a 24-teeth carbide blade that measures 10 inches in diameter. The blade is ideal for general cuts involving different materials. The saw sports a standard 5/8-inch abhor connected to a 15 amp motor that has a no-load speed of 4,800 RPM. The motor is powerful enough for the routine cutting of sheets and hardwoods.
DEWALT DWE7491RS has a rip capacity of 32.5 inches, which is enough to accommodate a variety of trim and shelving materials.
It has a maximum cutting depth of 3-1/8 inches at 90 degrees and 2-1/4 inches at 45 degrees. The saw has a sturdy cast iron table that measures 26.25 x 22 inches. The table provides superior material support and extra stability.
Dust extraction is taken care of by a 2.5-inch dust port. The saw comes with a stand for hassle-free set-up and breakdown. Heavy duty wheels are fitted on the stand for easy relocation within the jobsite. The saw has an on-board storage system for easy access.
Additional Specs-
Product dimensions: 31 x 24.5 x 31 inches* Product weight: 90 pounds* Warranty: 3 year warranty
Bosch 4100-09 10-Inch Worksite Table Saw with Gravity-Rise Stand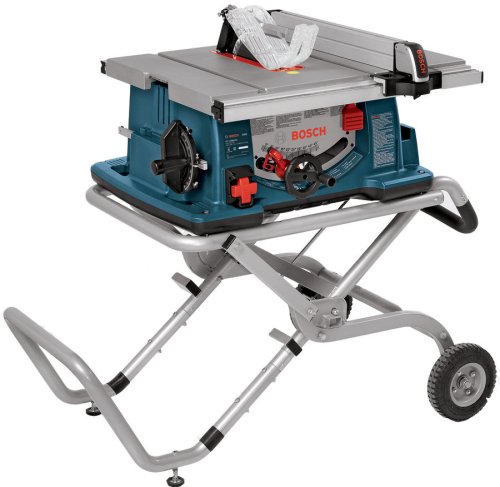 Bosch 4100-09 10-Inch Worksite Table Saw with Gravity-Rise Stand is a portable and reliable piece of equipment. This table saw is engineered for rugged use. It sports a durable 29 x 21.5-inch table made of machined aluminum. It's this aluminum construction that gives the saw a lightweight design for improved portability.
The saw is powered by a 4 HP motor, which makes it a professional class power tool. This motor is designed to provide hours of continuous duty and can handle thick, heavy hardwood stocks with ease. The motor connects to a 5/8-inch abhor and has a no-load speed of 3,650 RPM.
This table saw boasts of a 40-tooth carbide tipped blade that measures 10 inches in diameter. It sports a 25-inch rip capacity and the table can be adjusted to provide an extended width of 40.5 inches. The saw has a bevel range of -2 to 47 degrees.
It makes a maximum cut depth of 2-1/2 inches at 45 degrees and 3-1/8 inches at 90 degrees. A gravity stand is included to enable you to move the saw to the job site with ease. The 8-inch pneumatic wheels provide smooth movement, even on rugged surfaces.
Additional Specs-
Product dimensions: 39.3 x 29.7 x 21.2 inches
Product weight: 60 pounds
Warranty: 1-year warranty, 30 day Money back guarantee
DEWALT DW745 10-Inch Compact Job-Site Table Saw
If you're planning on carrying your table saw with you, DEWALT DW745 might be the best option for you. This is a lightweight table saw that can be carried with ease from job site to job site.
The saw sports an optimized footprint that takes it portability to the limit. It's powered by a 15 amp high-torque motor that has a no-load speed of 3,850 RPM. The motor packs enough power for routine cutting of hardwoods and sheet materials measuring up to 1-inch thick.
The 10-inch, 24-teeth carbide blade is connected to a 5/8-inch abhor. The blade delivers the 2-1/4-inch depth of cut at 45 degrees and 3-1/8-inch at 90 degrees.
This saw is designed to cut larger trim and shelving materials, thanks to its 20-inch rip capacity. With this table saw, you get bevel cuts that range from 0 to 45 degrees. The telescopic fence retracts to create a more portable package.
The table is coated with a specialized material that functions to minimize friction. Easy clean-up is achieved through a 2.5-inch dust port that easily connects to a vacuum.
Additional Specs-
Product dimensions: 25.8 x 26.5 x 13.9 inches
Product weight: 45 pounds
Warranty: 3 Year Limited Warranty, 1 Year Free Service Contract, 90 Day Money Back Guarantee
Bosch GTS1031 10-Inch Portable Jobsite Table Saw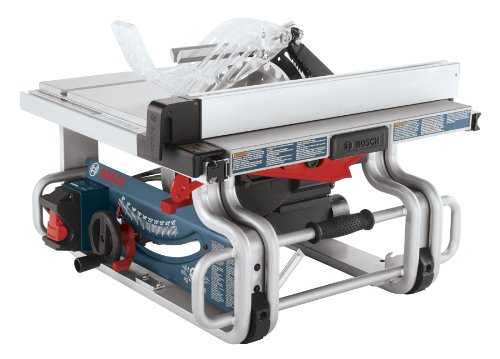 This is another best table saw that features both unique design and superior performance needed by the professional. This power tool features a powerful 4 HP motor with 5000 RPM which ensures clean, smooth cuts without much hassle. Its unique steel base means that the Bosch GTS can handle whatever abuse it receives from the worksite.
As opposed to most brands, this table saw's design allows it to be used in a range of applications. A balanced one-handed carry handle makes it easy to move your saw around the worksite. This table saw by Bosch has a tool-free access on the back for efficient waste management.
Bosch table saw has great rip capacity of 18 inches which makes it a great tool for ripping through thick materials. Its self-aligning square lock rip fence makes accurate measurement possible; not to mention the convenient tool storage under the table.
The GTS1031 has a 10-inch blade with 24 carbide teeth that could cut through thick material. This table saw also comes with 2 blade wrenches for efficient changing between specialty blades if need be.
This saw has a 2-1/4 inch depth of cut at 45° and 3-1/8 inches at 90° which is great for operators who often work with thick lumber.
Bosch GTS1031 has a miter saw to help you cut grooves into your wood pieces. Its ingenious Smart Guard protects against injury and this portable job site table saw promises extended performance over a long time as the parts are made of strong materials that won't corrode or damage easily.
SKILSAW SPT70WT-01 10″ Portable Worm Drive Table
The portability and compactness of SKILSAW SPT70WT-01 10″ Portable Worm Drive Table Saw with 25″ Rip Capacity is something that you can't help to admire. It's the world's first worm drive table saw; a tool designed for professionals.
The saw is built for easy relocation, thanks to its lightweight construction. It sports a solid construction designed to last a lifetime. The saw is powered by a 15 amp dual-field motor engineered for increased cutting speed and extended life.
The motor has a no-load speed of 5,300 RPM. It generates enough torque and power to rip through full sheets of plywood. The saw has a 25-inch rip capacity that accommodates demanding jobs.
It sports a 30-tooth Diablo carbide blade that makes 3-1/2-inch cuts at 90 degrees. Bevel cuts can be adjusted for -1 to 46 degrees. The saw provides the convenience of a self-aligning rip fence for precision cuts. An onboard storage system is included to provide easy access to the needed accessories.
Additional Specs-
Product dimensions: 23.4 x 19.9 x 13.4 inches
Product weight: 49 pounds
Warranty: 1-year warranty
Rockwell Bladerunner ×2 Table Top Saw – RK7323
Highlighted Features-
Multi-purpose saw (suitable for wood, metal, tile, and porcelain)
Lightweight compact and portable tool
Built-in vacuum port
Great for small home projects
Interchangeable blades
Have you ever thought of having one saw that cuts everything for you, from wood, metal, aluminum to tile and plastic? If so, then this type of saw is an unsullied choice. And it is very easy to setup (literally within seconds). And you don't even need all that space to keep it.
For a multi-purpose saw, this tool has a compact lightweight and portable build. The table top has a handle that lets you carry it around easily without any hassle. It also has a large rip fence.
The fence also has a hold down and splitter that holds the material you are cutting firmly, so it doesn't slip off while cutting.
A peculiar feature of this saw is the interchangeable blade. You can choose to use either the jigsaw blade, the circular blade, or any of the five blades depending on the material you are working with. This change of blade can be done without the use of a tool.
With this, you can carry out different types of cuts like the mitre, scroll, rip, and the inside cuts.
The cutting capacity of the saw is also dependent on the material. For wood, it is 1.5 inches, 1.25 inches for PVC pipe, and 3/8 inches for aluminum and ceramic.
Cleaning the Rockwell Bladerunner ×2 saw is easy due to the built-in vacuum port. It also has a blade holding compartment to help you store your blades.
On the downside, the saw is not suitable for heavy-duty work because of its motor power and the cuts are not very accurate.
Makita 2705 10-Inch Contractor Table Saw
Makita brands are famous for their good performance and the Makita 2705 10-Inch Contractor Table Saw is no exception. It is powered by a 15 AMP motor which delivers a whopping 4800 RPM for clean cuts through the thickest of pieces. You needn't worry about the saw during transport as it can be enclosed underneath the table to avoid damage.
This another best table saw is popular for extended rip capacity of up to 25 inches and can cut through 4″ material in a single pass.
It is easy to adjust the spreader/riving knife height using the convenient release lever which allows you to switch from through cuts to dado to non-through cuts without wasting valuable seconds. The adjustable guard design not only allows for better measurement from blade to rip fence but also gives the operator a chance to see the action.
The Makita 2705 10-Inch Contractor Table Saw comes with a 10 inch 32 tooth carbide tipped blade designed to make efficient cuts through thick pieces of wood. This device also has a dado blade for woodworkers who love making such cuts.
A generously sized T-slot miter gauge grooves are compatible with various commercial accessories which is great news for the individual looking to make unique cuts. This table saw model can cut 3-9/16 inches deep at 90 degrees and 2-1/2 inches at 45 degrees which are unmatched by rival brands.
Safety was certainly on the mind of this model's creators which is why they included the tool-less' modular blade guard system feature that further reduces chances of injury. The blade guard assembly with cam lock provides for easy installation or removal.
It also has an anti-kickback pawls to prevent injury. Makita 2705 model's greatest weakness is the lack of an accessory for dust collection. Dust easily gets trapped in the saw's body which creates the need for extra maintenance or risk damaging it.
Rockwell RK7241S Table Saw With Laser
This table saw spins at an impressive 4800 RPM which is great for the woodworker looking to make smooth cuts in a single pass. Most workers look for table saws that will ensure accurate results for each job.
Rockwell understood this need and in the Rockwell RK7241 model, they added the laser indicator which adjusts blade tilt to ensure clean cuts.
The integrated wheels on the left side and the extended leg also functions as a handle. It comes with a dust collection bag under the table which may not do much but is certainly better than laying a box under the table.
This table saw has a whopping 30 inches rip capacity when the fence is fully extended to the right of the blade and 11 inches to the left; a depth which other brands struggle to match. The Rockwell RK7241S with a laser has a 10-inch blade which means that it is able to cut through 4 times more than its competition.
As if this wasn't enough, they offered the most cutting depth of any such saw in the market. It cuts to a depth of 3-9/16 inches at 90 degrees and 2-9/16 inches at half that angle. This table saw offers ample table space and also features a fence that can be folded out to cater to extra wide cuts.
Advanced features like a laser for better alignment and portable design also contribute to the safety of this table saw. Rockwell RK7241S is an efficient tool by many standards including the fact that it is lightweight, heavy duty and versatile.
Jet JBTS-10MJS 10-Inch Jobsite Table Saw
When shopping for table saws, the most important thing is performance and the Jet JBTS doesn't disappoint. It is quite the lightweight table saw at only 90 pounds and to make movement around the job site even easier, is a wheeled stand. The wheels can stand up to some rough handling and the saw's stand also has a convenient storage area to hold extendable parts and the power cord.
This saw comes with a generous electric power cord so you don't have to rely on numerous extension cords which can be dangerous in a job site. Set up and breakdown is easy so you don't have to worry about damaging the parts when moving this saw from your storage area to any job site.
The ten inch wide blades are effective cutting tools when working with thick wood pieces. The dado blade has a maximum diameter of 10 inches which should suffice for the passionate woodworker.
For workers safety, the Jet JBTS 10-Inch table saw has anti-kickback pawls that also meet European standards. Jets JBTS cuts 2-1/2 inches at 45 degrees and 3-1/16 at 90 degrees. This is more than any other table saw and therefore a great selling point for the brand.
This table saw model has a 2-1/2 inch dust port that can be hooked to a vacuum. This goes a long way in preventing the mess which is common with woodworking. It packs a powerful 15 AMP motor which is just right for cutting through heavy woods.
The European-style riving knifes meet high UL standards of safety and performance. This table saw has right rip capacity of 25 inches the blade's right and 11 inches left which is great for pressure treated lumber.
Ridgid R4516 10-In. Portable Jobsite Table Saw
Movement from place to place is a breeze as it is convenient for board storage that holds everything from the blade wrenches, miter gauge, push stick and power cords. The solid wheels make Ridgid R4516 a portable saw that you can move from workshop to work-site without risking damage to different parts.
This Ridgid R4516 10 in. Portable Job-site Table Saw has a high rip capacity of 24 inches to the right but only 7 inches to the left of the blade. It runs on 15 AMP motor which delivers 5,000 RPM for smooth cuts through thick pieces of wood.
The 10-inch blade on this saw makes it an excellent choice, not forgetting that it cuts to a depth of 2.25 inches at 45 degrees and if positioned at a right angle it can go deeper to 3.25 inches. A two in one hand wheel makes bevel and height adjustments easier to make thereby reducing the time consumed on each job.
The Ridgid R4516 has a modular barrier system which provides maximum protection against injury. Riving knife feature is a welcome addition that protects workers from flying pieces of wood or plastic.
This saw is convenient to operate as you can switch from spreader to riving knife in a matter of seconds. Unfortunately, the 2-in dust port on the back of this table saw isn't enclosed so you will have a hard time managing dust from your wood.
The manufacturers certainly did a good job reconditioning this saw into what it is today. From powerful operation to convenient transportation and storage, they certainly had the operator covered from every angle.
There may be some cosmetic blemishes from reconditioning but that shouldn't keep you from trying the Ridgid R4516 10 Inch Portable Jobsite Table Saw which is definitely a delight to work with.
Considerations to Make Before Buying a Best Table Saw
Table saws are an important investment for a woodworker which is why one must seek a clear understanding of what makes a good one. The first and most important consideration to make when buying the best table saw is ensuring that it is sufficient for your specific needs. To do this you must factor in things like;
Size and space available
Durability
Type
Price
Time spent on woodworking
By carefully thinking about these issues you will be able to choose a table saw that fits your budget and serves all your needs.
Types of table saws
As mentioned, different woodworkers have various needs that must be met by their choice of a saw. This is why there are several types of table saws on the market that can handle some jobs absolutely well but might not suffice for some tasks. When you go out shopping for best table saws you are likely to encounter types like:
Portable table saws
As the name suggests, portable table saws are lightweight and therefore easy to move from place to place. There are quite a number of portable table saws including;
They are usually very compact, light and affordable. Despite their lack of wheels or stand, these table saws can be easily lifted from one part of the workstation to another. They make an excellent tool for the hobbyists who love working in their garage during spare time.
Benchtops work best on soft woods but their rip capacity is very limited so you cannot use it for full-size sheets of material.
Unlike the benchtop, compact table saws feature additional features like cast iron table surfaces and stands. They operate on direct drive universal motors and feature lightweight constructions but compact table saws tend to offer more power than the benchtop type.
Some compact saws resemble their full-size counterparts but without the rip, the capacity to match.
These are the heaviest among portable table saws with rugged construction and robust components to boot. They always feature a stand that can be folded up to save on space.
Jobsite table saws boast better fence adjustment and usually have dust collection ports, riving blades and onboard storage to increase efficiency. Even with direct drive motors, job site saws tend to be more powerful and durable which makes them ideal for somewhat heavy duty use.
Stationary table saws
Some table saws are heavy and larger than usual which makes it nearly impossible to move them from place to place. Some manufacturers make them with wheels for easier movement but they still are categorized as stationary because of their size and heavy duty construction. There are basically two types including;
These are technically a mix of cabinet saws and old-style contractor saws. Some hybrids may have a full enclosure for storage while others simply have an open stand to hold the work surface. There is widespread confusion around hybrid table saws owing to features that sometimes represent one extreme. Buyers find it particularly difficult to distinguish between cabinet table saws and hybrids with full enclosures.
These are the strongest of all stationary table saws. They feature powerful motors of 240 V that produce 3 to 5 hp which is enough to cut through treated lumber and hardwood. They have large tables that could also be extendable not forgetting the ability to make more accurate adjustments.
Everything from their construction to powerful motors is a clear indicator of why cabinet table saws are usually found in industrial settings. At weights of more than 500 pounds, these table saws usually need a mobile base to allow for movement.
The unique features of cabinet saws mean they are quite expensive but the hobbyist can still find affordable brands. If you intend to use a cabinet table saw at home, make sure to adjust the power supply to match their unique power needs. You will have to upgrade to 3 phase power which is somewhat expensive for hobbyists.
Powerful motors make the contractor table saws quite heavy at 200-300 pounds. Some modern models still feature long belts for outboard motors which means more vibrations during operation. This type of stationary table saws is preferred because they offer more power than portable saws yet are less expensive than industrial cabinet saws.
Old contractor tables were quite portable but the need for design changes led to heavier, less mobile saws that made less noise and even have dust collection abilities. If you are confused, better ask an expert to identify contractor table saws on your behalf.
Saw blades
This is an important aspect of table saws as it determines the materials you can cut and how efficiently that might happens. Some saw take smaller blades and others larger but most types use 10-inch blades. A smaller blade may be used with loss of cutting depth but you should never try to use a larger blade than your saw is designed for.
When choosing aftermarket blades consider the type of cuts it is able to make. Some options can make crosscuts while others are simply designed to make primary cuts along the grain. Cross-cutting blades tend to have more teeth set at less aggressive hook angles to slice across tough wood fibers.
There are general purpose table saw blades that balance a number of teeth, shape and hook angle to enable fine results with whatever cut but if you don't mind switching you can always go for specialty blades.
Fence and Miter Gauge
A good fence must provide for hassle-free adjustment in both horizontal and vertical directions. There shouldn't be wiggle room as the fence should firmly sit on the rails. Some fences utilize bolts to mount the fence tube to the square head while heavy-duty saws have the fence tube already welded to the T-square head.
The miter gauge provides you with more cutting options so you must make sure that your choice is versatile enough. Be careful about using the fence and miter gauge at the same time as this exposes you to injury from kickback.
Motor types
Shoppers must make careful considerations when it comes to the motor for their table saw. Horsepower is an important factor which directly affects the performance of a tool. Ideally the more horsepower the better but you must also bear in mind the available voltage.
Table saws with 1 to 2hp motor usually need 120V to operate while those at 3 to 5hp need 240V to run. Larger motors usually translate into more power for table saws that can cut through very thick pieces of wood. It is good to take a close look at a table saws motor whether it is portable or not to make sure that it can indeed handle the job intended for it.
Safety
Table saws-even portable ones-are powerful tools that could cause grave injuries if not handled correctly. Various brands come with safety features like anti-kickback pawls, blade guards, and flesh sensors among others to protect your limbs during operation. Look out for types with great safety features but remember that the more they are, the higher the price you will pay to take a table saw home.
Accessories
Manufacturers add special features to give table saws more marketing edge over the competition. Carry handles for easier lifting, levers, and base wheels to make stationary table saws more mobile are some of the accessories to look out for in a table saw. These not only make for a better experience but also increase safety when handling or operating the power tool.
Dust Collection
Dust is a real menace for woodworkers because of the mess and allergies for some people. This is why you should look out for table saw brands with dust collection features like ports that can attach to vacuums. Cabinet table saws are the best alternative for woodworkers seeking superior dust collection.
When out shopping for table saws make sure that it at least has a sufficient dust collection port or even a cabinet. Proper dust collection features don't usually have a major effect on the table saws' price but that ultimately depends on the brand.
Magnetic switch
Magnetic switches are important features of table saws that protect against thermal overload. Such switches automatically shut off in case of power outage making sure that the machine doesn't start by itself when power returns. This is a great safety aspect that provides extra protection, especially when changing blades.
Conclusion
Different table saw brands offer various benefits but that doesn't mean that everything will work for you. Only go out shopping with your exact needs in mind so you can bring home a tool that will cut through the materials you like working with, withstand the test of time and most importantly keep you safe during operation.